Great, now that I have your attention, while reading this post, if you don't make this face…
at least once, then…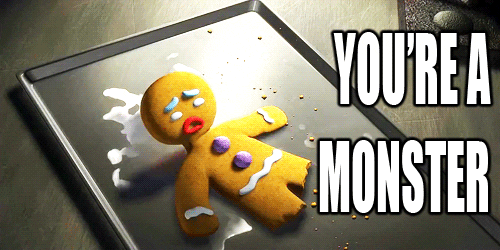 Last Saturday I was talking to my sister and I brought up *National Adoption Weekend. She asked if I was going to get another dog. I told her I've been thinking about it but, just haven't put forth any effort into finding one. That was it. We really didn't say too much about it after that.
Saturday evening, I drove about an hour and twenty minutes away from my place to go hang out with my friends. I wasn't feeling my "normal" self. I still wasn't feeling right from my overly dramatic morning (if you haven't read that post yet, read it here). Then, add the fact I had the worst migraine, my body was tired from driving the hour and twenty minutes, AND I was extremely nauseated (like threw up in the restaurant bathroom). Despite all of that, I still managed to put on a smile and continue hanging out with my friends. Since we live far away from each other, I don't get the see them often, so I was going to push through the night.
While hanging out I texted my sister. "I say we should go to the animal shelter tomorrow. Ya know just to see what they have 😊." Of course she was down because who can ever turn down puppies (All dogs at all stages of life are puppies. I don't care what anyone says).
Sunday morning, I wake up and I feel horrible. I was sprawled out on my bed. Every fiber in my body felt like it weighed a ton of bricks. My back felt like it got hit with a sledgehammer and I could barely keep my eyes open. I was in a constant cycle of finding a comfortable position, napping, watching TV, and "not right now Polo." I think I overdid it the night before. I should've just listened to my body and went home when my friends asked if I wanted to leave. Now I was paying for it.
Around 3 my sister texted me to see if I still wanted to go to the shelter. By then I had forced myself out of bed to take a shower to see if it would help. It kind of did. I told my sister sure (because puppies, duh!) and she sent me the directions to the shelter.
We get there and of course I instantly felt better. Dogs have this way of sucking the stress out of you. Many of the dogs there were brought in from the south due to Hurricane Harvey. They were moved from the Texas shelter to this shelter, so the animals that were lost or abandoned due to the storm could be located by their families easier.
I know, I know.  You read this far looking for one thing, so without further ado…I show you…PUPPIES!
I was happy to see that a couple of them were already adopted. I, of course wanted to adopt them all but, couldn't. We actually ended up going to two animal shelters. I didn't see any puppy I really wanted but, my sister did! She had to get the blessing from my brother-in-law first. He was going to go to the animal shelter Monday but, it was closed. I haven't talked to her since so I don't know if he ended up going the next day or not. I'll provide an update if they end up getting a new addition to the family. 😍
So, did you make that face? No? Well go take a good look in the mirror..
Okay, you get one more chance. Allow me to introduce, my puppy, Polo.
*It was actually PetSmart's National Adoption Weekend (at the time I thought it was National Adoption Weekend for all animal shelters *shrugs*).